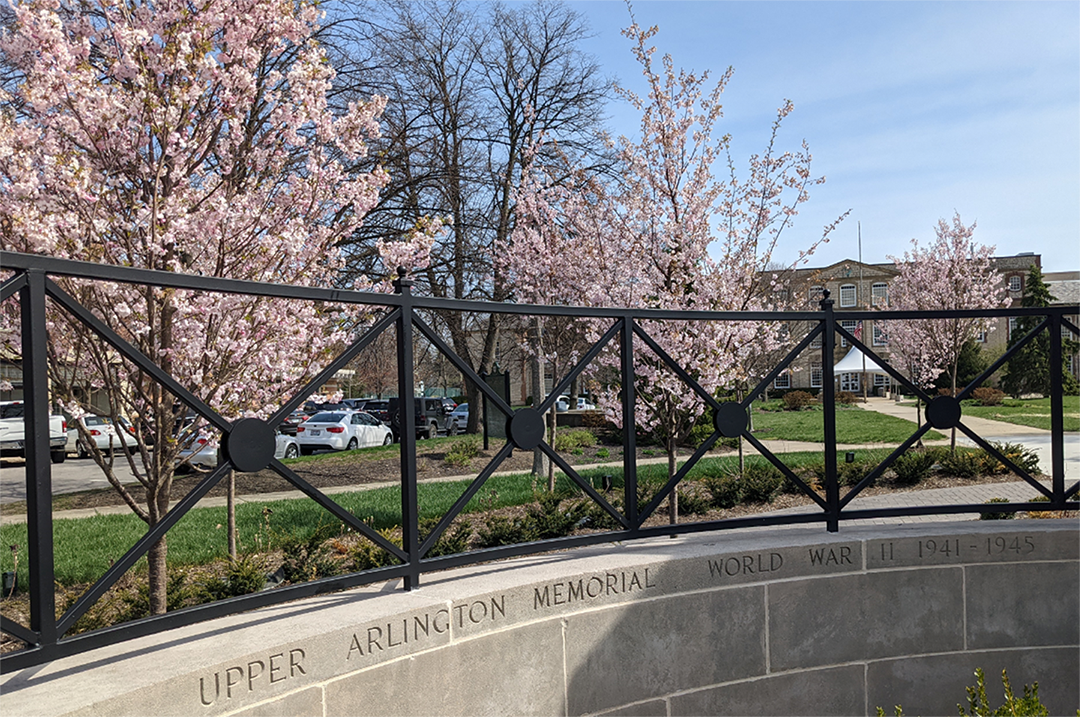 Cherry Blossom Festival Celebrates Japanese Culture
Upper Arlington Cherry Blossom Celebration
5 pm, Monday, April 3
Mallway Park, Arlington Avenue
Please join us for a brief celebration of the grove of cherry trees in Mallway Park by the Veterans Plaza, as part of a broader series of activities that have been scheduled across Central Ohio in celebration of spring and to provide an opportunity to learn about Japanese culture.
UA's celebration is being presented by the following groups:
The UA Community Relations Committee
The UA High School Asian American and Pacific Islander (AAPI) Association
Asian American Community Services
Cover to Cover Books
The Community Relations Committee also encourages residents to visit Mallway Park in early April to enjoy the blossoms of 21 cherry trees planted in the Veterans Memorial area.
Greater Columbus Cherry Blossom Festival
April 1-9
Experience the Greater Columbus Cherry Blossom Festival, scheduled for April 1-9. The seeds of the Greater Columbus Cherry Blossom festival (GCCBF) were planted in Washington, DC. On February 14, 1912, Mayor Yukio Ozaki of Tokyo, donated 3000 cherry trees to the city of Washington, D.C. shipped from Yokohama, Japan on board the S.S. Awa Maru, by way of Seattle. This historic event was made possible through the efforts of Mrs. Helen Herron Taft, wife of then President William Howard Taft and Eliza Scidmore. On March 27, 1912, Mrs. Taft and the Viscountess Chinda, wife of the Japanese Ambassador, picked two Yoshino cherry trees from the original 3000 trees and planted them on the northern bank of the Tidal basin near what is now Independence Avenue marked by a large bronze plaque. Washington's famous National Cherry Blossom Festival (NCBF) grew from this simple ceremony and gesture of friendship. President Taft and wife Helen were from Ohio. Former Governor Bob Taft is the great grandson of President Taft. On April 27, 2012, during its bicentennial celebration, the city of Columbus also celebrated the 1912 centennial of the donation of the original cherry trees in Washington, D.C. by planting 20 cherry trees in Franklin Park, a gift from Japan through the OSU East Asian Studies Center, as a symbol of over 100 years of friendship between the U.S. and Japan. On April 21 2017, IVO included in a 5-point proposal, the planting of cherry trees around the ponds. CRPD countered on September 29, 2017 by inviting IVO to partner with the City in planting more cherry trees for a possible Columbus Cherry Blossom Festival expanding the Peace Garden. In the spring of 2018, the City of Columbus Recreation and Parks Department (CRPD), Franklin Park Conservatory (FPC) and the International Voluntary Organizations (IVO) joined efforts to obtain and plant 40 additional cherry trees around the lower pond which were dedicated on September 22, 2018. Again, in 2020, an additional 42 cherry trees were planted in a column leading to and around the Upper Pond which were dedicated on October 3. IVO, CRPD and FPC held the historic 1st Cherry Blossom Festival in Columbus, Ohio on April 2-10, 2022, patterned after the annual NCBF in Washington DC.
This year's events include:
April 1 – Virtual Opening Ceremony
April 2 – JASCO and Worthington activities at Franklin Park Conservatory
April 8 Finale, Franklin Park

11 am – Call of the Japanese Drums, followed by Taiko Workshop (Amphitheatre)
Noon – Cultural Display Opens (Adventure Center)
12:30 pm – Flag Raising and Welcome Ceremony with Angela An, WBNS 10TV
1-3 pm – Entertainment and interactive activities
3 pm – Call of the Japanese Drums
3:30-5:30 pm – Entertainment and interactive activities
5:30 pm – Bridges to Peace
6 pm – 31st Peace Garden Anniversary Closing

April 9 – Spring Festival at The Ohio State University, plus HANAMI